How we know Regis Lachance was a police informant
In April 2020, we were putting the finishing touches on Wish You Were Here. I had newly made the acquaintance of Jean-Pierre Rancourt, the lawyer who had defended Fernand Laplante, and I was eager to include his words about the case in the final draft of the book. Jean-Pierre had graciously mailed me a copy of his book, Confessions d'un Criminaliste, but it hadn't arrived yet. Through telephone conversations, Rancourt told me what he had written in the book about the trial; how it was a set up, and how at the last minute the Crown called a police informant to the stand who jeopardized his whole case. He could not remember the name of the informant, but he assured me it was in the book, and I would have it once it arrived.
I desperately wanted the informant to be Luc Gregoire, the Sherbrooke sexual predator I was convinced had not only murdered my sister, Theresa, but may have been responsible for the murder of Louse Camirand and the death of Manon Dubé, so I emailed Jean-Pierre and asked him to respond with the name. This was all very dramatic, and he gave me the impression he was minutes away from retrieving it. Not able to wait, I blurted out, "Gregoire" in an email message. Rancourt responded, "Non, I will find it… His name is Regis Lachance"
I felt defeated, like I'd reached another dead end. So I catalogued this bit of information, like the 27 packets of take-out soy sauce you stash in your kitchen junk drawer because, you never know. It would take me another year to realize that this was not the end, it was the beginning of the end.
A word about Jean-Pierre Rancourt. He worked some controversial cases included the defense of Claude Valence, the lead figure in the 1978 Charles Marion kidnapping affaire. He represented Guy Lafleur, the Montreal Canadiens Hockey Hall of Famer who only recently died, in a complex case where Lafleur was accused of assisting his son, Mark in evading conditions of his bail. Readers of this site know his name, as he defended the Sherbrooke Police in the 1983 Rock Forest affaire. Later in life, Rancourt also took the case of Agent 728, the Montreal police officer convicted of assaulting protesting students with pepper spray in 2016.
Some saw Rancourt as an "underworld attorney", one of his closest friends was Frank Shoofey, another Quebec lawyer who famously took the case of Richard Blass, the gangster gunned-down in a police raid in 1975. Shoofey himself was gunned-down in his law office in 1985. His murder remains unsolved. Rancourt once represented a guy accused of making a threatening phone call to Premier René Lévesque. He even defended Regis Lachance… the other Regis Lachance. That's right, there were two of them. Regis "Le Chinois" Lachance was an Atomes biker who in 1982 stabbed a patron at Phil's Diner on King Street West in Sherbrooke for refusing to give up his seat at the lunch counter. Tough place this Quebexico.
I don't care that Rancourt defended mobsters or police, though there is some question as to whether higher powers asked him to handle the Laplante case (who was paying the bill?). It does not matter to me that he was on the other side in the Rock Forest affair, that's business. For me, Rancourt had a passion and determination for extracting the truth. Everyone has the right to stand-up for themselves. It does not gibe that Laplante was guilty of the Grimard / Bergeron murders on the basis that police believed he was responsible for other crimes. That's not the way justice works. If those are your rules, then the police are just as bad as the criminals, and they were. As a finally note, today's police – at least the ones I communicate with in the Surete du Quebec – hold Jean-Pierre Rancourt in high regard, believing him to have been a formidable attorney.
Concluding the trial
Régis Lachance finally showed up in court, but not as a witness in Rancourt's process as the defense attorney had intended – Lachance was now a protected witness for the prosecution, the last witness called to the box on the 14th day of Fernand Laplante's trial. In fact, Superior Court Judge Paul Gervais granted a special request made by Crown Prosecutor Claude Melancon to reopen the Crown's case in light of this new witness with "pertinent evidence".
Most of his testimony covered the events surrounding the Aloha Motel fire which we have already discussed – how Lachance denied that the arson attempt was a set-up by the police, with the goal of securing a statement from Jean Charland that would incriminate Fernand Laplante (it was exactly that).
On the stand, Lachance said that Laplante came to his home on Rue LaRocque that summer following the murders. As Lachance stood on his balcony, Laplante, accompanied by his wife, Claire Dussault, yelled up at him from his yard asking him to come down because he had business to discuss with him. When Lachance refused, Laplante and Dussault went up to his apartment. Lachance asked Dussault to leave, which she did. Then according to Regis Lachance, Laplante said " he had a big mouth and that if he didn't keep his mouth shut, the same thing would happen to him as to Grimard and his dog."
I would argue that a conversation like this might have happened, but the other way around, with Lachance threatening Laplante to keep his mouth shut or he would be killed. For we already know Regis Lachance was a liar, he lied when he stated that Aloha was not a police set-up. What is most important in this testimony – not withstanding the the appalling comparison of Manon Bergeron to a dog – are two things: the fundamental fact that Laplante and Lachance knew each other, and that Regis Lachance lived on Rue LaRocque. Rue LaRoque is one block from the location where Grimard and Bergeron were last seen by Guy Robert, and two blocks from the Rue Short location where taxi driver William Pettigrew let out his tattooed passenger – who was Lachance – the morning of their murders.
In cross-examination, Regis Lachance acknowledged that he had not been arrested by the police in connection with Aloha Motel arson investigation. Jean-Pierre Rancourt asked Lachance if he had gone to the new SQ headquarters on Don Bosco with fire investigator Normand Plourde on November 10 to meet with investigators before the arson incident. Lachance said no.
"You didn't go to the SQ with Mr. Plourde?", asked Mr. Rancourt again.

Lachance retorted, "I've told you no three times."

"Laplante aurait menacé Régis Lachance", La Tribune, 3 Mai, 1979, Page 3
And with that Regis Lachance walked away from the witness stand. Later in the day, Jean-Pierre Rancourt attempted to call him back, but Regis Lachance had already left the court house, apparently feeling empowered enough to do as he wished, whenever he desired, even in defiance of a Quebec criminal process.
The reason we know Regis Lachance was a police informant comes from the following account in Jean-Pierre Rancourt's biography:
"I noticed that the court reporter Robert Diorio, who was taking notes at the trial, was looking at me funny. He seemed troubled and I guessed he wanted to talk to me. As soon as the judge adjourned for a break, I approached him.

– Jean-Pierre, while listening to the testimony of the Crown witness, I was reminded of a scene I inadvertently witnessed that may have an impact on this trial. I checked my calendar to be sure.

– What are you talking about?

– The Aloha Motel fire occurred on the evening of September 10. On that day, I had arranged for the courthouse staff to visit the brand-new police station. At about 4 or 5 p.m., I saw a fire inspector I know well come in. He was with Régis Lachance, the informant witness, whom I also know well, because he is a regular client of the courts. I said to the investigator, "Did you arrest Régis again?" He replied, obviously uncomfortable: "You didn't see us here…" In all conscience, I had to let you know", said Diorio, "but we understand each other, I didn't tell you anything…"

"Me Jean-Pierre Rancourt: Les Confessions d'un Criminaliste", Bernard Tetrault, Stanke, 2015, Page 58
Rancourt ignored Diorio's plea to keep things hush-hush and called him to the stand anyway. Diorio managed to get out that he had toured the new headquarters with other courthouse employees in the late afternoon of November 10, and that he knew the fire investigator Normand Plourde and a man named Régis Lachance. But when Rancourt asked who Diorio had met at the police station, prosecutor Claude Mélançon immediately objected and the name Regis Lachance was never heard.
In conversation with Rancourt in 2020 the former attorney told me how Regis Lachance, "lied, lied, lied". The opening of the new Surete du Quebec Headquarters on Don Bosco was a big deal in the fall of 1978. There were regular tours conducted throughout the month of November, like the one described by Robert Diorio. Rancourt told me of a second encounter with Regis Lachance at the headquarters shortly after the Aloha fire. Another reporter – who may have been Jean Larose – again saw Lachance with SQ officers and sarcastically commented, "Oh you arrested him", to which one of the officers barked, "You shut your mouth."
The series of encounters with Lachance at the headquarters of the Quebec Police tells us many things: first, that it wasn't any great secret that Lachance was an informer; second, that the police weren't particularly careful in keeping it a secret, or had any great sense of urgency about it; and finally, that Regis Lachance was able to carry himself through channels of law enforcement and the underworld with a sense of entitlement, acting with the knowledge of protection that allowed him to get away with practically anything, maybe even murder.
In Rancourt's words Regis Lachance "was organized by the SQ to set-up Charland", and that it was Charland "and another guy" who killed Grimard and Bergeron, not Laplante. Jean Pierre Rancourt also told me how the physical abuse and intimidation by the SQ was not reserved only for interrogations. On several occasions during Laplante's trail he would encounter officers in the court stairwell and they would "give him the shoulder", meaning physically brush him as they passed by:
"While I was cross-examining the witness on this, the police officers had daggers in their eyes. And when the court reporter and I were walking the halls later, they tried to intimidate us, to the point of leg-holding and shoulder-poking. I even made a formal complaint to the judge.

– Your Honor, since we brought these facts out in front of you, we have been getting hit in the hallways.

But he ignored me.

– Come on, Maitre Rancourt, you can't be serious."

"Me Jean-Pierre Rancourt: Les Confessions d'un Criminaliste", Bernard Tetrault, Stanke, 2015, Page 59
This was not only "disturbing evidence of collusion", as Rancourt called it, it was clear evidence that, like Lachance, the Surete du Quebec also acted with total impunity in the era of the late 1970s. If they cut corners and pursued a bogus theory in the investigation of Grimard and Bergeron, just how motivated could they have been to provide a proper investigation for girl who had gone missing and turned up murdered over the same time frame from the Aloha fire in November to Laplante's trial in the spring of 1979?
No victory
"You, the jury, are composed of 12 people, five women and seven men, from every walk of life. It is very possible that there is at least one among you who understands the underworld at least a little. Perhaps you worked as a waiter as I once did during my college days, in a place where these type of people met. If such was the case, I am sure you would understand that crimes such as the one we are considering here don't take place quite the same way as the chief witness for the Crown Jean Charland declared."

Jean-Pierre Rancourt, May 3, 1979
In his closing arguments, Jean-Pierre Rancourt stated flat that Jean Charland's version of events did not stand up to analysis and logic. He described the 20-year-old Gitans biker as fearless, and someone who had "executed contracts by the shovelful". He did not believe Raymond Grimard to be a police informer, and did not find it credible that "le loup" would decided to commit a theft at two in the morning, after refusing to commit a daytime robbery on the previous afternoon. The hypothesis that Grimard and Bergeron were killed elsewhere and then dumped at Astbury Road would be much more consistent with reality. Rancourt pointed out the strange, rather obvious, but often overlooked fact that the Crown's chief witness, who seemed bent on incriminating Laplante, and said he was an innocent spectator in the affair, was also accused of murder in connection with the same crime. Rancourt argued that Charland had an interest in "blaming Laplante for the crime, in protecting other unknown persons".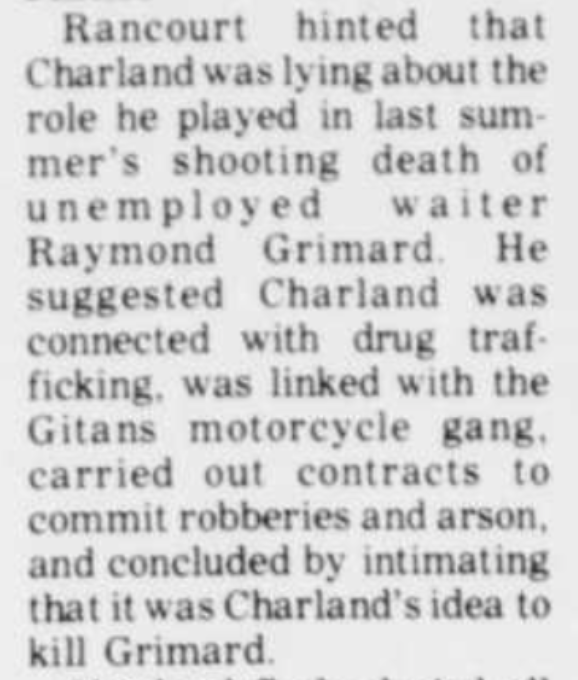 It always seems to be these veiled "unknown persons" in these Sherbrooke affairs. Remember Madame Giguere's Cassandra-like warning of her husband, Rolland Giguere's 1969 murder that " the murderers had been protected by certain individuals to the detriment of the investigators."
After a swift six-hours of deliberation by the seven men and five women jury, on May 7, 1979, 34-year-old Fernand Laplante was found guilty of the murders of Raymond "le loup" Grimard and Manon Bergeron on July 6 in Ascot Township and sentenced to life imprisonment by Superior Court Judge Paul-M. Gervais. Gervais added that detention would allow Laplante the time "to expiate his faults and reflect on his actions." Jean-Pierre Rancourt immediately announced his intention to request a new trial. Claire Dussault Laplante spat in the face of Jean Charland as she left the courthouse, which appeared to be the customary gesture for the ending of trials in S-Town.
In December 1979, the Supreme Court of Canada turned down Rancourt's appeal, and Fernand Laplante was ordered to serve his remaining 22 and one-half year sentence before parole eligibility. Fifteen years later appealing his guilty verdict, a contrite Fernand Laplante said he "had paid dearly for his lack of cooperation" in his criminal process. In 2014, at the age of 70, Fernand Laplante was granted full parole. His current whereabouts are unknown.
Laplante maintained his innocence throughout his incarceration. What he did not do was offer any statement of who may have murdered Grimard and Bergeron. Laplante was innocent of these crimes, but he was no stoolie. You can only think that those "unknown persons" held powerful influence over Laplante and the Eastern Townships. Did he feel threatened if he dared to open his mouth?
Bon Voyage
We have talked about how Jean Charland was a Gitans, or an associate of the Gitans biker clan. Fernand Laplante was affiliated with their rivals, the Atomes. Laplante was from Coaticook (where Carole Fecteau was also born), and this village to the south of Sherbrooke has always been known as Atomes turf (remember their clubhouse was burned down there in Sainte Edwidge by the Gitans in the early 1970s – see map).
There's a funny – not so funny – article about these bikers "escaping to Paris" during their criminal process for a vacation, our old friend, Corporal Roch Gaudreault of the SQ even gave them a police escort to Mirabel Airport and wished them "Bon Voyage." This is like a version of Jean Charland under "house arrest" at his parents only on steroids – the impunity that these criminals were granted, enabling them to conduct business as usual while awaiting possible murder convictions. What chance did a resolution of my sister's murder have in the face of this?
Jean-Pierre Rancourt may know many things about the Sherbrooke underworld in the 1970s. But as the former defense attorney of many of the players in all these events we have discussed, he is protected, obligated by his attorney-client privilege. Hopefully, one day, in some fashion, Maitre Rancourt will find a way to share his complete, and no doubt fascinating story.